Locations
Full lunch meal with air conditioned seating
One block beyond the viale Regina Elena border of the university (5 minutes walk from Aula Magna) is the mensa (cafeteria) of the School of Economia e Commercio (Sapienza) with air conditioned seating for 1000 people with full meal (first course, second course, side dish, fruit/dessert, cold drink, or freshly prepared kebab/grilled items and pannini, pizza, drinks, etc; vegetarian/vegan/lactose options) for € 6.00 (unbeatable price)! We expect a heat wave for the beginning of the meeting, so this is the optimal choice for both comfort and price.

DIRECTIONS to via del Castro Laurenziano 7b:
Exit the university on viale Regina Elena and walk left to the corner, then cross over and walk to the right down viale dell Universita' one block, then turn right and walk half a block. Enter on the left. There will be a dedicated cashier for the meeting but you must show your meeting badge.
Quick lunch at University Bars
We have arranged with the two bars at each entrance of the university and a third bar in one corner of the campus to offer boxed lunches for participants in those venues since otherwise they will be overwhelmed with lunch requests already supplying their normal clients. Each is a 2-3 minute walk from the central location of Aula Magna (map location 1 below) where the plenary sessions and registration take place.
Bar La Cascina

(Piazzale Aldo Moro west entrance) map 16 below,
Bar Dopolavoro (La Cascina)

corner of (Piazzale Aldo Moro and Viale dell'Università) map 17 below

Show your meeting badge and

€

4.00 buys a rice or pasta salad or panino (or pizza at the Dopolavoro) plus one drink (water, soft drink, ice tea, coffee, etc).

Bar Caffetteria Sapienza

(viale Regina Elena east entrance) map location 30 below

Similar to above but not yet confirmed.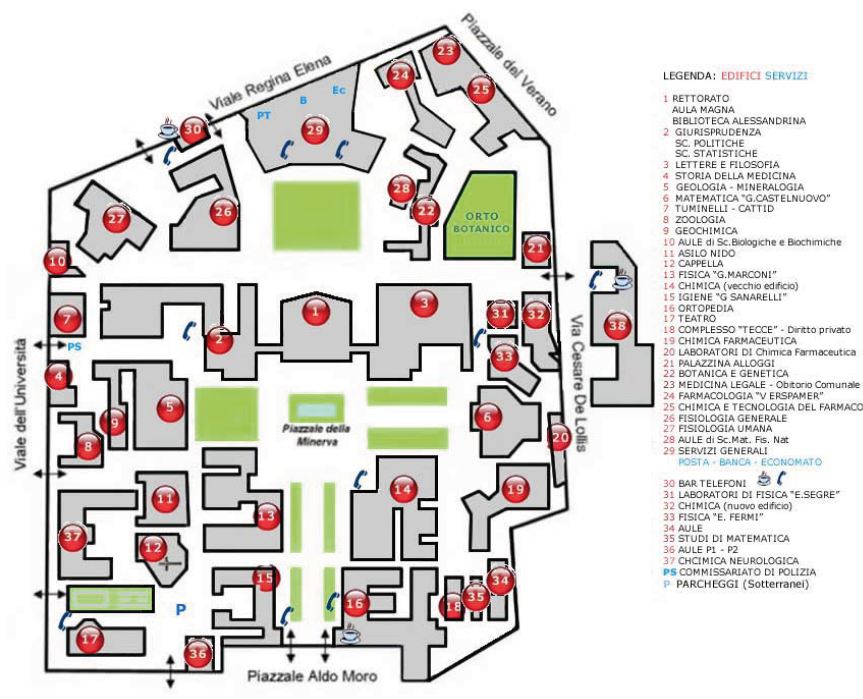 It is at least a 15 minute walk back to the Stazione Termini train station area where many food venues are available, but under the hot Roman midday sun these are not so desirable to reach.
One can also walk towards via Tibertina from the Piazzale Aldo Moro entrance of the university to find other food options from pizza to full restaurant meals.
For dinners you can easily use the web to find appropriate restaurants for your own tastes.